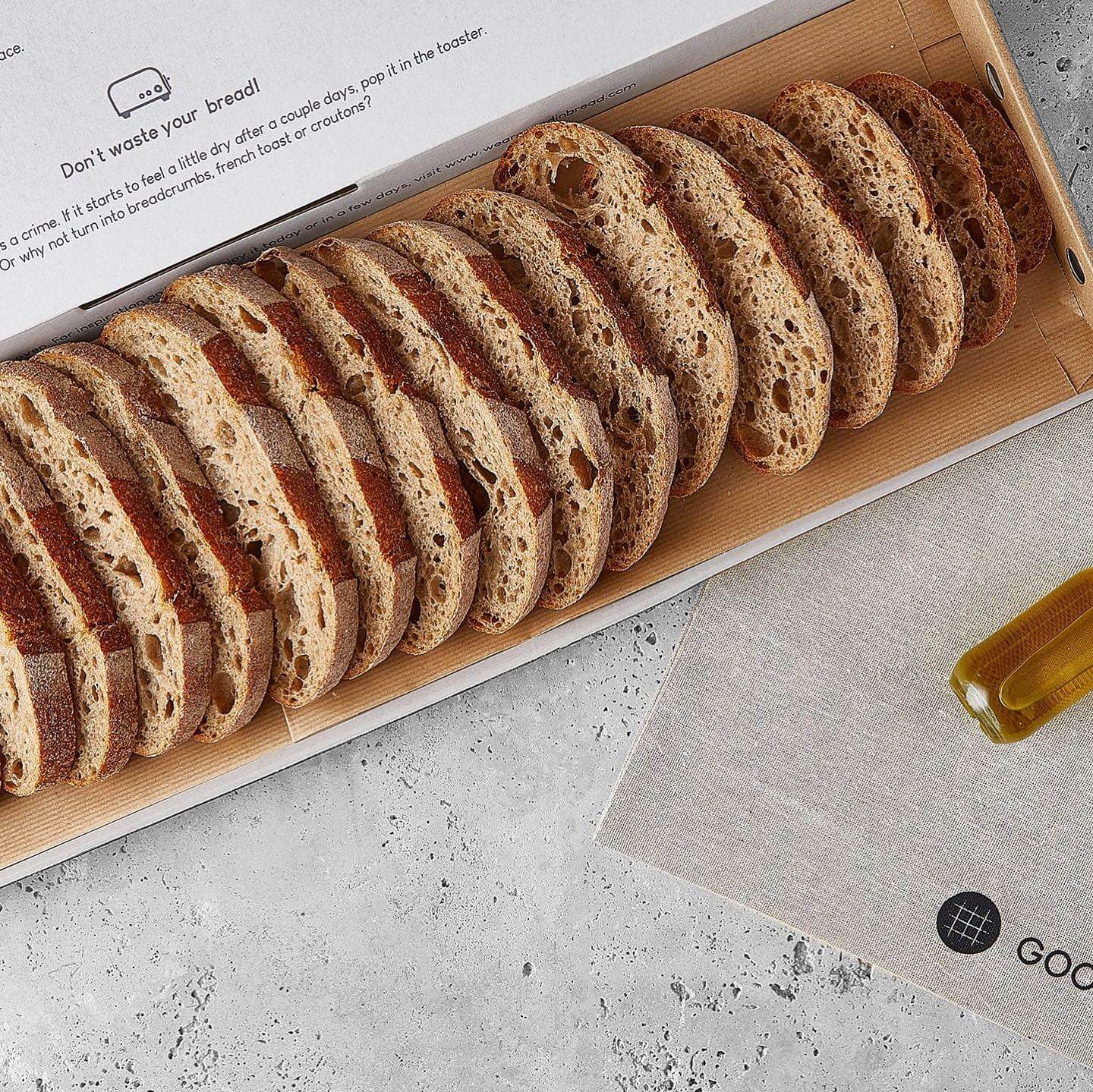 Good In Bread
We bring you the freshest quality in Sourdough artisan bread straight to your doorstep making it a hassle-free and delicious experience. Every week, we send you our choice of Sourdough bread, always ensuring that you are receiving not only the best tasting bread but a wide variety of loaves to suit every taste in your household.
We have a variety of subscriptions on offer, choose to have your loaf (or loaves) delivered on Tuesdays and/or Fridays, Sliced or Unsliced.
With weekly, monthly or bundle subscription options, there's something to suit all your needs – view details for each below.
We are committed to bringing you some of the most delicious "healthy" bread in London. We believe that, if done the artisan way, Sourdough bread can not only be good for the soul but for the body as well.
Our Sourdough loaves are handcrafted by Sciascia Storey, an independent artisan bakery in West London, who not only use the best organic flours, but use natural leavens and slow fermentation processes to give our loaves that unique and delicious aroma, texture and character.
Many experts say that the slow fermentation process makes Sourdough bread more nutritious with lots of nutrients and minerals. Authentic Sourdough bread is also easier to digest because it is lower in gluten than its industrial counterpart.
We believe that yummy loaves need healthy wheat, and healthy wheat comes from a healthy planet. Not only are our loaves made with 100% organic flour, but we also deliver all of our boxes by bicycle, our box packaging is fully recyclable and our loaf bags use 100% biodegradable materials.
Freeze your bread, don't waste it! Wasting good bread is a crime. Our product packaging has been specially designed to make it super easy for you to pop the slices of bread you won't be eating straight away into the freezer and keep their freshness for longer. If your bread starts to lose its bounce after a while, we offer lots of recipe inspiration & quick tips on our Bread Blog on how to revive and re-use your days-old bread.
OFFER TERMS
Cannot be used in conjunction with any other offer. W9 Maida Vale terms and conditions apply.
10% OFF THE ONLINE BAKERY
| | |
| --- | --- |
| monday | 9 am to 6 m |
| tuesday | 9 am to 6 pm |
| wednesday | 9 am to 6 m |
| thursday | 9 am to 6 m |
| friday | 9 am to 6 m |
| saturday | Closed |
| sunday | Closed |