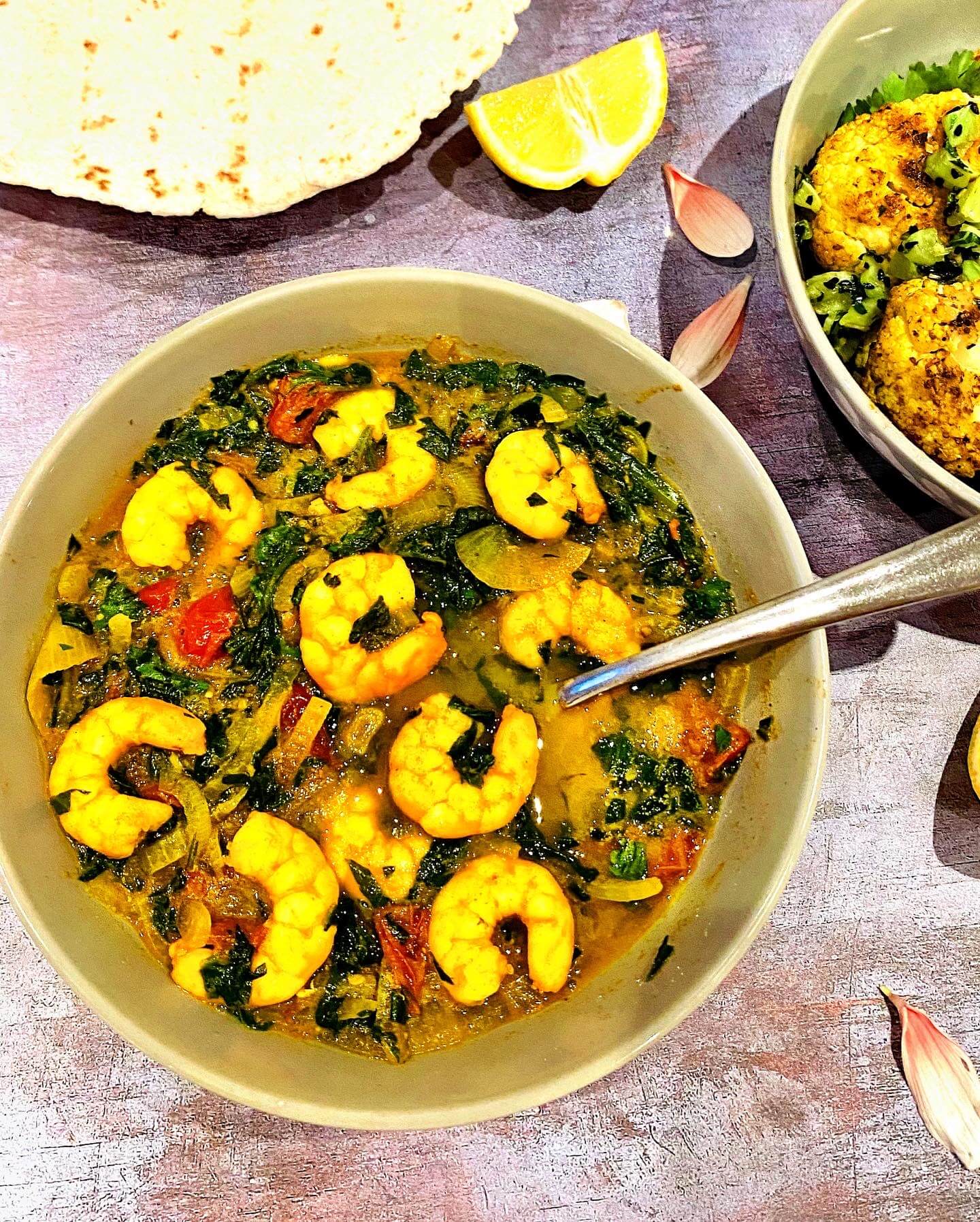 Prawn and spinach curry with roasted cauliflower
Some days you just need something warm and comforting that is also jam-packed with tonnes of nourishment. For us, nothing quite hits the spot more than a curry, and let alone one that stands next to some delicious roasted cauliflower.
This recipe is dairy-free, minimal spice but full of ginger, turmeric, spinach – so packed with iron, antioxidants and anti-inflammatories and it only takes around 10 mins to rustle up! I used Bart Ingredients medium curry powder which I love and is just the right of flavour with the prawns and spinach sauce. Yum!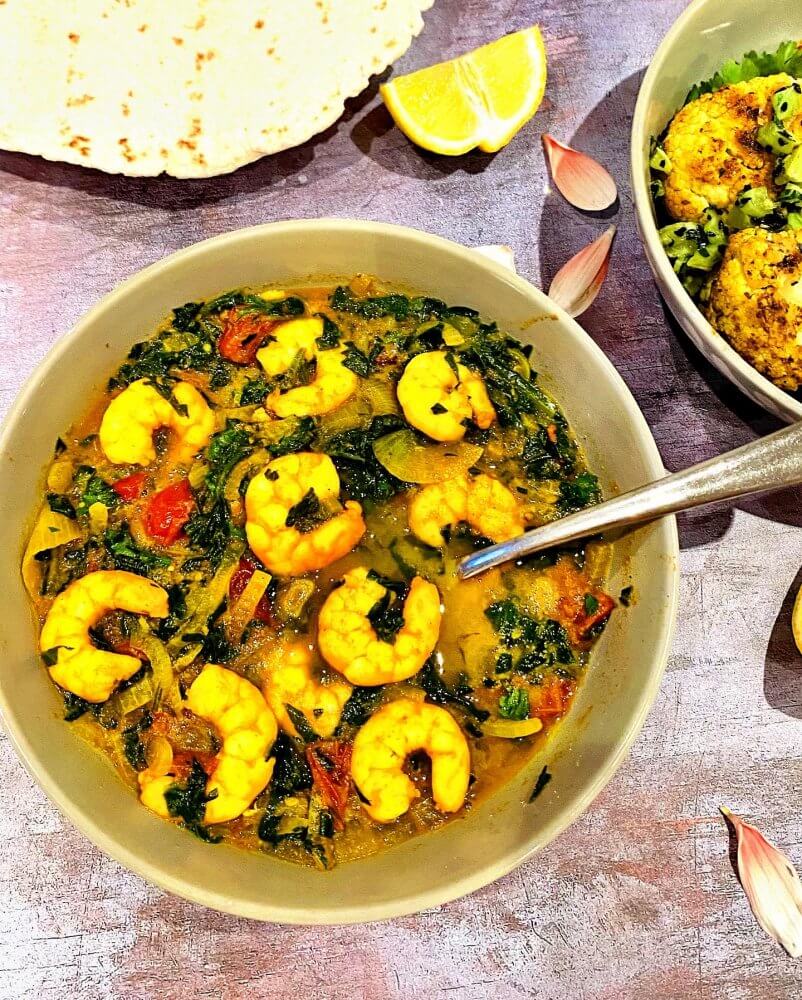 Serves 2-4
INGREDIENTS
For the cauliflower:
1 medium cauliflower (including leaves)
Olive oil
1 tbsp garam masala
1 tsp Nigella seed
For the prawn and spinach curry:
200g raw prawns
1 red onion
2 garlic cloves
5 cm piece fresh ginger
1 tbsp black mustard seed
1 tbs garam masala
3 medium tomatoes
1 green chilli
1 tsp turmeric
1 tin coconut milk
2 handfuls of baby spinach
METHOD
Preheat the oven to 180 to 200 degrees. Cut or break your cauliflower into florets and put in an oven tray with the stem/leaves kept aside. Season well with a good swing of olive oil and some salt and pepper and the garam masala.
Roast in the oven for 35-40 mins checking and turning once.
Meanwhile, discard the cauliflower leaves and stalk and finely chop. You should end up with a few tbs worth chopped small. Keep this to one side and get on with the curry!
While the cauliflower is cooking, add some olive oil into a pan, add the black mustard seed and heat until they pop. Chop the red onion, crush the garlic, grate the ginger and add into a pot with the green chilli. Stir for a few minutes until soft and fragrant.
Next, chop and add the fresh tomatoes and turmeric to the pan. Add the prawns and cook until they start to turn colour. Now, add the coconut milk and cover for 5 mins – you don't want to overcook the prawns!
Next, add the spinach and immediately turn off the heat to allow the spinach to wilt without overcooking.
Add some freshly squeezed lemon juice and seasoning to taste.
Lastly, fry the cauliflower leaves and stalk with some olive oil, some salt and pepper and the nigella seeds. This only takes a few minutes.
Take the cauliflower out of the oven and serve in a bowl with the cauliflower crumb sprinkled over the top. Serve with the prawn and spinach curry and some basmati rice.